November 28, 2013 - Happy Thanksgiving
"Chicagoans Submit 500 Proposals
to Chicago Tribune's New Plan of Chicago"
That's the headline I was hoping to see this week in media other than the Tribune. But no luck. Something's not right here: something in Chicago's media community. If a Chicagoan shoots another Chicagoan, media will jump all over each other to frontpage the bloodshed. ("If it bleads, it leads.") But when one Chicago medium inspires 500 Chicagoans to spend thousands of hours devising plans to stop the shooting and build a better city, what happens? Other Chicago media pretty much ignore their work.
Don't get us wrong: media will always cover the news, violent or otherwise. But at a time when Chicago needs not some but all of its resources to shape its future, it's amazing that no one in our media-driven society is even thinking to ask what roles Chicago's media should play in shaping the city's and region's future - least of all (with the commendable exception of the Tribune) Chicago's media.
So why are other Chicago media mostly ignoring the Tribune's New Plan? Our Nov. 3 post (below) gave four possible reasons:
Media see it as competition.

Media don't to play second fiddle to another medium.

Media see the Tribune as wanting to hog the entire "New Plan" field to itself.

Media see the Trib's New Plan as too highbrow for their audiences
And don't forget the if-it-bleads-it-leads priority of Chicago's newsmedia. As Mayor Daley used to say, "media glorify trouble makers and neglect problem solvers."
Need more proof of this media inattention to the Trib's New Plan? Search for yourself, using the hyperlinks to ten Chicago media at our Nov 3 post, below. So far, I've found just two references to the Trib's New Plan for Chicago:
This 11 minute interview with Tribune Editorial Board member Kristen McCreary (and former BEZ staff member) by Tony Sarabia on WBEZ's Morning Shift in early October, with a promise of follow up interviews. McCreary says Chicago needs to break out of the "hamster wheel" of unproductive conversations about violence that Chicago has had since the early 1990's. (My search of WBEZ's website gave no link to this clip.)
BTW, note that Chicago's media routinely report on each other's business dealings. On Nov. 12 the Sun-Times ran this story on page 12: Tribune Co. cuts 240 jobs companywide in 3rd quarter. This business coverage is common; it shows that Chicago's media avidly cover matters of importance to media insiders as they ignore matters of critical importance to Chicagoans.
But, as we keep saying, all this will change. Evidence of change? Look at this man:
Chicago Tribune Editor Gerould W. Kern
At Creating a new vision for Chicago's future, Gerould Kern introduces the Trib's New Plan. It's well worth reading and remembering. An excerpt:
The Chicago Tribune will serve as a forum for the synthesis of ideas from all corners. We believe this is central to our mission to stand up for the interests of the community, give voice to diverse perspectives and advocate for solutions. We are invested in achieving the right outcomes because Chicago is our home too.
This commitment to the interests of communuty, diversity and a search for solutions "from all corners" is new to the Tribune. It contrasts with the paper's historic, industrial-age emphasis on "commerce and industry" as expressed in its Statement of Principles.
The Chicago Tribune is a citizen of Chicago, a newspaper committed to inform and lead public opinion, to foster commerce and industry, and to furnish that vital check upon government which no constitution can.
Does the Tribune's new "mission to stand up for the interests of the community" outdate this old language? You decide. Kern goes on to say of the Tribune's "role as convener" that
over the next few months, we will publish more editorials, present your ideas and convene public forums to discuss them. The first of these meetings is our Chicago Forward event on Monday, Dec. 16, at the Museum of Broadcast Communications. Go to tribnation.com/events for more details.
The danger I see here is that this public forum risks excluding precisely the members of the public who need most to participate in the Tribune's search for solutions. In 1986 the Tribune made this mistake with its Millstone series (see our October 7 post, below).
And indeed, the first "New Plan" public meeting will be open only to those of the public who can afford to put down $20 for a ticket plus $2.09 for a service fee. This ain't right. This amount is prohibitive for the parents of 87% of the 404,000 CPS students who CPS says ""are from low income families".
Question to the Tribune: as what point in the development of your New Plan for Chicago will public forums like this be televised live so that all CPS families and students can have the chance to participate in its development?

Question to Channel 9 (Tribune Corporation owned) and Chicago Public Television: what's stopping you from televising pubic events like this?
I ask these questions because last summer I attended a Chicago Forward event featuring an exchange between CPS Superintendent Barbara Byrd-Bennett and Tribune Editorial Page Editor Bruce Dold. Interesting event. Very interesting. But the audience of about 150 who paid $20 to attend was mostly white, with minimal representation from the African American and Hispanic communities whose children comprise 85.7% of all CPS students. I wrote Bruce Dold about this. We had a fairly constructive email exchange which I will post here with his OK.
I will attend the December 16 public meeting with high praise for what the Trib is doing and a hard observation about the way it's doing it. I will urge the paper not to go in alone on a project whose success requires the level of enthusiastic coverage and programming that Chicago's media routinely give to Chicago's professional sports teams.
Is this asking for too much? Not when media wake up to the huge profits they can make and the enormous benefits that can be generated with the help of a media that enables all of us to think sensibly about our individual and collective futures.
On balance, the trend is positive. Chicago's most authoritative medium has just committed itself to an entirely new, citizen-participatory, media-enhanced way of shaping Chicago's future. We may not all feel it yet, but Chicago has reason to be thankful this Thanksgiving.
---
November 25, 2013
How Will Chicago's Media Help Shape Chicagoland's Future:
The Tribune's New Plan of Chicago Still Isn't Asking.
But not to worry. Sooner or later I'm pretty sure it will. And pretty sure also that other media will follow suit. (I'm looking for the Sun-Times, with its strong city newstand sales, to step up to the plate first. And where are you Chicago Public Radio and Chicago Public TV?) Other media will want to step up, if our
expanded

op ed piece

is correct. Why? It's simple: because they'll want to secure their own financial futures and those of the city and region as well. (In an Age of Information, all futures are networked and interdependent).
That said, if other media don't step up, the Tribune's historic effort could come to naught: it could simply wither on the vine much as its less far-sighted precursor, the American Millstone, did in 1985. The Millstone project failed for lack of support from three groups: City Hall, other Chicago media, and its very subjects: the so-called "underclass" of poor African-Americans living in the Lawndale neighborhood (see our October 7 entry, below).
Logo of the Final November 24 Installment of Phase One of the Trib's New Plan
Yesterday the Tribune concluded what is now effectively the first installment of its New Plan of Chicago by extending the Plan and inviting readers to send in more submissions in addition to the 500 submissions it's already received. Not a bad beginning!
Of the five categories of solutions the paper has received so far, "Reimagining Youth" was the first. Top priority. "Start in the Streets" - work at the neighborhood level - was fifth. Good choice. Number four - "Self-reliance as a force multiplier" - was well-conceived. And numbers two and three, "Reinventing real estate" and "Redeploying public dollars", while predictable, had to be there. So, bottom line, much wisdom. Great start.
OK, so there's no mention yet of the role of the media in realizing all this, but media's importance will become clear as we emerge from the hardwood trees we're immersed in now and move towards a birds-eye view of the electronic forest wherein we live.
Where Chicago is now:
Can't see the forest for the trees
For Chicago to see the forest for the trees, its
Prediction: The first region to use its media to reinvent itself in terms of how it prepares its young people to shape the region's future will be America's next Big Apple.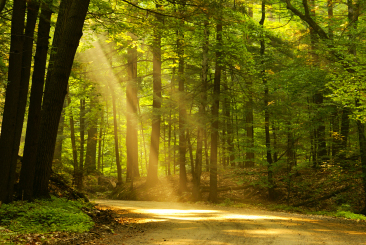 A Way Out of the Forest: a Path Forward forged by the Tribune's New Plan*
Seeing the forest and the trees:
a Bird's Eye View of Chicago in 1893
at the World's Columbian Exhibition, Chicago
If Chicago and its media complete what the Tribune just begun, it could replace New York as America's next Big Apple. Think about it. For a few details, scroll down to the October 4 post, below, forto see a map of America divided into nine media-driven regions which compete and cooperate with each other much in the manner of professional sports teams and leagues.
Prediction: The first major city/region to use its media to reinvent itself in terms of how it empowers its young people and adults to shape the region's future will be America's next Big Apple.
* I can't think of the way out of the forest without thinking of Out of the Crisis, the magnum opus of W. Edwards Deming, the great American statistician and systems engineer whose Total Quality management philosophy and Fourteen Principles of employee-participatory management were credited by Japan with enabling it to reinvent its industry under the auspices of the Marshall Plan following WWII.
---
November 18, 2013
OK, So Could Our Theory about the Critical Role of Media
in Solving Youth Violence Be Wrong?
I hope not, but let's see. As stated in our recent op ed piece, the theory is as follows:
As for media: Chicago has always treated youth violence as a public safety and public health problem, but never as a public communications (media) problem. Yet Chicagoans have always seen youth violence through the blood-soaked prism of sensationalized, if-it-bleeds-it-leads soundbite headlines that have helped to estrange precisely the two groups - children and adults - without whose cooperation the problem is insoluble.
From this it follows that Chicago's media - the city's public communications system - has a critical role to play in putting young people - at-risk children especially - and adults in touch with each other to reduce youth violence. Youth violence, in other words, won't be resolved in Chicago without the active participation of Chicago's media.
The attempt to falsify we're applying to our theory is the one on the right.
Can this theory be falsified? Perhaps it can. After all, no one else, so far as we know, has ever advanced anything like it, even though the case for it has been all but self-evident to many Chicagoans for decades. And I have no hard data to directly support it, just anecdotal observations of many people plus the widely accepted idea that Chicago (and other American cities) are media-driven communities whose buying habits, cultural norms, political priorities and voting decisions are substantially influenced or determined by their mainstream media.
Two pieces of information coming from City Hall prompt me to try to falsify this theory. The first is a statement by Mayor Emanuel as quoted by Fran Spielman in her Nov. 6 Sun-Times story on $136 million overtime pay for Police and Fireman. In the course of defending this overtime pay, the Mayor says that :
"The strategy is, two years running, a 23 percent reduction in overall crime. The strategy is a 24 percent reduction in shootings as well as in homicides. The strategy is to see a level of safety in Roseland like I have in Ravenswood. That's the strategy," the mayor said.
The Mayor speaks with confidence. His strategy, which he's clearly convinced is working on schedule, is set forth in his April 2012 Chicago Plan to Prevent Youth Violence and its guiding pledge to reduce youth violence in Chicago by 50% by 2020. This Plan - the second piece of information that got me thinking against my own theory - deserves a close look, along with the pledge that drives it. (Actually, the time running is closer to eighteen months than two years.)
For the sake of discussion, let's accept that Mayor Emanuel's pledge, if realized, will constitute a reduction in youth violence sufficient to convince Chicagoans that the city has indeed turned the corner on youth violence. If this happens, then Mayor Emanuel's Plan to Prevent Youth Violence will have refuted our claim, in our op ed piece, that City Hall's "top-down policy development processes aren't demonstrably moving Chicago forward."
The Mayor's Plan, by its success, will also have effectively falsified the theory of youth violence and media advanced at this site by achieving its objective with no involvement on the part of Chicago's media (or, for that matter, without the citizen input and youth/adult cooperation that our theory maintains is critical to solving youth violence). The Mayor's Plan excludes Chicago's media from any role in the problem-solving process in three respects:
It states that "Chicago integrates a "public health" approach for reducing youth violence" (12). It does not address youth violence as a public communications problem in which Chicago's media are either a cause of youth violence or part of its solution.

While the Plan asserts "our true commitment to multidisciplinary partnerships" intended, among other things, to "break down barriers to communication", local, on the ground police and public health initiatives, and not media, are the sole facilitators of better communication (12).

While the Plan states that "Chicago's business community has stepped up to help us achieve our vision of a safer Chicago", no mainstream or public media, are mentioned as among the 15 businesses that the Plan says have stepped up to help (13).
Insofar as Mayor Emanuel's Plan is successful, one might argue that its success alone would go a long way towards falsifying my theory the critical role that media must play in reducing youth violence. It would have done so by demonstrating that youth violence can substantially be reduced without media playing any defined role in the reduction process. And Mayor Emanuel seems to be confident that his Plan is on target to succeed.
My response to this argument is that the reduction of youth-related homicides is but the tip of the iceberg of a much larger challenge that awaits the entire Chicagoland region: that of creating an education system, a justice system, and an economy that restores fiscal stability to the region while giving all Chicagoland residents, young and old, a fair shot at a good life.
Until Chicagoland develops an informed consensus on this most desirable of goals, we may be sure that systemic problems like youth violence and drug addiction will decline temporarily only to emerge in new and unforeseen forms. The challenge before Chicagoland today is to evolve, consciously and deliberately, in directions that meet the needs, respect the rights and tap the strengths of all 8.3 Chicagoland residents and their communities. Sound impossible? It's not: not when Chicagoland makes maximal use of the most powerful technologies that humankind has ever known: the public, community, digital and mainstream media that comprise Chicagoland's public communications system.
It's time to see the forest for the trees: time to wake up from the nightmares of the past and present and to dream and build a future that works. From now on, it's sink or swim, and all indications are that our region will sink or swim as a region. We'll all in this mess together. Don't believe me? I urge a careful reading of "How Chicago Debt Exploded", the latest (Nov 17) and seventh installment of the Tribune's eight-editorial series from with it will develop its New Plan of Chicago. For starters, check out this Tribune graphic:
Don't just read this. Read the Editorial as Well. And watch the 3 minute
video summary of it by Tribune Editorial Board member John McCormick.
Got it? Sufficiently enraged/depressed by what you just read and heard? Now ask yourself: how can Chicago, or Chicagoland, possibly reduce this mountain of debt without a collective act of will the likes of which the region has never seen: a "We Will" act of collective determination that taps deep into the best insights and energies of 8.3 Chicagoland residents.
Which leads me to wonder: what great ideas will the Tribune itself come up with get us out of this mess? I can hardly wait for their Nov 24 "new Plan"! One thing is certain: any solution, to be effective, must perforce "be a plan for all of us", as Richard C. Longworth, a respected student of economic growth and decline in Chicago, recently asserted in "Saving Chicago: Reinventing Our Economy to Inspire a New Middle Class" (Chicago Tribune, 11/8/13).
---
November 6, 2013
Eight Questions for Chicago and Its Media
We're asking two questions about Chicago's future that haven't been raised at City Hall, by Chicago media or by the region's two leading planning agencies: Metropolis Strategies and the Chicago Metropolitan Area Planning commission (CMAP) (see Nov. 3 below):
What role will Chicago's media - public, community and mainstream - play in building a world-class future for the Chicagoland region?

What role will media play in addressing intractable problems like joblessness and youth violence?
Sooner or later someone had to.
Especially concerning youth violence, these questions could have been asked as far back as the 1960's, which saw the rise of three distinct phenomena that have lead Chicago to where it is today. (two phenomena have contributed as well: first, the Great Migration of African-Americans from the South to the North and Chicago in particular, as chronicled by William Julius Wilson, and, second, the decline of manufacturing in the Midwest and Chicago resulting from the rise of the global economy.) These questions are:
The youth culture and with it the so-called generation gap whose mantra was "You can't trust anyone over/under thirty". This youth counterculture, spurred in America by the anti-war and civil rights movements, became a global phenomenon. Today it has become a generation rift that divides and estranges multiple generations from each other.

The drug culture, which in Chicago today fuels the gang-controlled underground economy that accounts for most youth violence while economically sustaining many impoverished Chicago neighborhoods today. Drugs in Chicago are sold and distributed throughout the suburbs, when actual druge use is equal to that of Chicago, as is confirmed by the authoritative annual Illinois Youth Survey. Look at a regular teenaged drug user, city or suburban, and you're usually looking at someone who can't handle the troubles they have at home or school.

The advent of nationwide network television. This overlooked yet transformative event is at the heart of our theory that youth violence is as much a public communications (media) problem as it is a public safety (police) or public health (medical) problem.

The displacement of in-depth newspaper coverage of local events with "sound-bite" televised coverage whose constantly repeated images of youth violence, are harmful in two ways:

They create in the public mind a powerful assocation between violence and young people, non-white youth in particular, which over time works to divide and alienate children and adults.

The alarmist coverage of youth violence is not balanced with coverage of efforts to reduce youth violence. As Mayor Daley used say, Chicago media (not just TV) "glorify trouble makers and neglect problem solvers".

The rise of the televised political attack ad and its corruption (there is no other word) of the American electoral process at local, state and national levels.
Our recent op ed piece points to a fifty year pattern of neglect with respect to Chicago media's coverage of youth violence in particular:
Chicago has always treated youth violence as a public safety and public health problem, but never as a public communications (media) problem, even though Chicagoans have always seen it through the blood-soaked prism of sensationalized, if-it-bleeds-it-leads headlines that for the past 50 years have helped to estrange precisely the two groups - children and adults - without whose cooperation the problem is insoluble.
If these observations are true, and I'm convinced that they are, it hardly seems reasonable to expect that Chicago or its media will correct overnight what they've overlooked for so long. Patience must be the order of the day. That said, there are encouraging signs - the Tribune's "New Plan of Chicago", for instance - that Chicago is beginning to rouse itself from its 50-year, media-exacerbated nightmare of youth violence.
What's called for now.
Not only patience is called for but persistance as well. What city leaders need, I think, are regular, gentle wake-up calls, much like the soft, musical alarms their smart phones give off. In coming weeks, this site will record their responses, whether anonymous or for attribution, to the questions stated above. We'll be reaching to university departments of journalism and communications, to education, legal, public health and public safety groups, to foundations, at City Hall and higher branches of government. and of course to Chicago's media.
To the Chicago Sun-Times: will you team up with a Chicago TV station to realize collective efficacy in a violent Chicago neighborhood?

To Mayor Emanuel: what progress has been made towards reaching your goal of reducing youth violence by 50% by year 2020 since you announced this goal while presenting the City of Chicago Youth Violence Prevention Plan in April, 2012: "Chicago's violence plan introduces a combination of prevention, intervention, response and re-entry initiatives with the goal of reducing violence in Chicago by 50 percent by 2020."

To Chicago's public media: Chicago Public Radio (WBEZ 91.5 FM) and Chicago Public Television (WTTW, Channel 11): media: what are your responses to questions 1 and 2, at the top of this post?

To the Chicago Tribune: how will you ensure that voices of ordinary Chicagoans are included in your New Plan of Chicago?

To Mayor Emanuel and Chicago Media: how interested are you in

hosting a yearlong Youth Summit modeled on Mayor Washington's 1986 Education Summit that makes at-risk youth part of the solution, not the problem.

To all Chicago media: will you hold contests inviting your audiences to help you design dynamic media formats aimed at solving intractable problems like joblessness and youth violence?

To the Chicago Tribune and the Chicago Sun-Times: Would you be willing to compete and cooperate with each other in a joint effort, supported by other media, to reduce youth violence in Chicago and drug abuse throughout Chicagoland?
---
November 3, 2013
What We've Learned since October 6,
When the Tribune Launched its New Plan of Chicago
What's have we learned? Quite a bit. Some of it you'll find in this sparkling op ed piece, as yet unpublished, to which both the Tribune and Sun-Times have turned a deaf ear - so far. I've been reworking it for weeks. As an oyster grinds his pearl.
Now I'm circulating it; a few good people are listening, a few aren't. Not yet. It will be interesting to see who eventually picks it up, and when, and why.
Bottom line, the Tribune's "New Plan" strikes me as more slam than sham. By a long shot. It's thoughtful and serious even though it's not getting any of much of the media attention it deserves. Why not? Four possible reasons:
So will the Trib's New Plan dazzle or fizzle, as we asked on October 7? (below). To dazzle - to capture the hearts and minds of Chicagolanders and the attention of City Hall - I think other Chicago media will need to pitch in. The Trib could invite them publicly or privately to join forces. For the public good.
What a great day that would be: to see Chicago's two daily newspapers competing and cooperating with each other to help build the region's best future. And then radio and TV stations pitching. And how about you, Public Ratio and TV?
I was hoping other Chicago media and media personalities would cover the Tribune's New Plan. But I'm seeing almost nothing. If you see something I'm missing, I'd love to hear about it here.
Try Googling Chicago Tribune "new plan of Chicago". Not encouraging. And see for yourself what's being said or not said at these media sites:
Results at Tribune Corp-owned media sites are much more encouraging:
I worry that the Trib's New Plan will fizzle unless other media (and area civic and political leaders) involve Chicagoland residents in the Plan's stated objective, namely to
address the imperiled livability, uneven prosperity and desperate public finances that have driven residents to leave by the hundreds of thousands.
This is fine language, a worthy undertaking. But its concern is clearly with a Chicagoland problem, not just a Chicago problem. Yet the Trib calls the problem a Chicago one - this despite that fact that its readership for decades has been overwhelmingly suburban!
The takeaway from all this? It's a Chicagoland problem. The more we look at our region's future, the faster the old, rigid "Chicago/Chicagoland" distinction simply fades into the past.
That's the position taken by the two major written plans for Chicago's future, both of which argue, quite sensibly, that the region's only viable social and economic future hinges on a growing city/suburb interdependence. Note also that both plans ground themselves firmly in Daniel Burnham's 1909 Plan of Chicago:
Media Fun fact 1: The word "media" occurs but once in these plans. This despite the fact that commercial media powerfully influence and often shape the buying, cultural and political habits of 8.3 million Chicagoland residents.
Media Fun fact 2: The Tribune's "New Plan" makes no mention (so far) of the role to be played by media in shaping Chicago's future. Yet the Tribune is a medium, owned by a media corporation. The elephant is in the room. So is the emperor without his clothes. Yet no one is saying a word. All that will change soon enough.
---
7 October, 2013
The Chicago Tribune's "new Plan for Chicago":
Sham or Slam? Fizzle or Dazzle?
A call to Tribune readers - help design a holistic response to Chicago's fourth great crisis. This mission echoes Daniel Burnham's 'make no little plans'.

Chicago Tribune

Sunday, October 6 2013
Announced in yesterday's Sunday paper, this extraordinary "call to Tribune readers" - a "challenge to Tribune readers" in the above masthead - made my day. Sort of. Cross your fingers. I'll have more to say about this potentially historic venture, for I've hoped and worked for years (including, on and off, with the Tribune) to see what I saw yesterday in print.
I hope this project succeeds beyond The Trib's and Chicago's wildest dreams. Success will help Chicago see itself anew and set an example for other Chicago news media and national news media as well.
The Sun-Times shouldn't miss a beat following the Trib's lead. Why? Because Chicago's future may depend on the roles its media play in shaping the city's and region's future. But also because yesterday's announcement opens up huge new markets for all Chicago news media: it foregrounds the Market of the Whole, as I've called it for years, of all 2.8 million Chicago residents, not to mention the 8.3 million residents of greater Chicagoland.
In coming weeks this site will offer our criteria for success. Plus suggestions to realize the enormous promise of the Tribune launched yesterday.
Mixed feelings. Credibly conducted, The Tribune's "new Plan" for Chicago will disrupt entrenched habits and practices: journalistic, political, educational, business and cultural. Chicago will see itself anew. The paper's greatest challenge, as I see it, is to play a lead role in enabling Chicagoans of all ages, the city's leaders, and its news media as well to develop a quality that is key to Chicago's future: mutual trust. I've said it before and I'll say it again: Chicago's future hinges on the capacity of its media (and its leaders) to build trust among the people and in their institutions. There's no way intractable problems like youth violence and school reform can possibly be solved in the current and ever-deepening climate of mistrust between young people and adults, whites, blacks and Hispanics, citizens and police, and citizens and government.
Trust: How Important is it to Chicago's Future?
The most powerful spur to creating trust is the need for constructive alternatives to the failure of Chicago's media and City Hall to lead Chicago out of the multiple crises - social, educational and economic - in which the city finds itself mired today. If I am correct, the Tribune is acting out of desperation: both to boost is flagging circulation and to help a struggling city.
To secure its future, the "I Will" Chicago of the past needs to learn to work and think as a "We Will" Chicago for its future. Tall order, no?
On the upside, the paper's unprecedented "challenge to Tribune readers" could be a true game-changer: a sign that Chicago's news media (not just the Trib) are readying themselves to help Chicago turn the corner on its unsolved, fifty youth violence problem by complementing their traditional journalistic (reportorial) roles with something entirely new: a mediating role whereby Chicago news media commit to making Chicagoans and City Hall responsive and accountable to each other in defining solving the problems that threaten Chicago's future - and also in discovering and maximizing the opportunities that will shape Chicago's future (and Chicagoland's future as well, given the rising interdependence of city and suburbs). I've been waiting for language like this for thirty years: language that commits the paper to listening to concerned Chicagoans - in its "Who Can Participate" paragraph, the paper explicitly referred to students, employers, Neighborhood Watch block captains, parents, City Hall workers, college profs and ministers - and to giving their ideas voice in its own editorials, its op ed pages, and its letters to the editor section.
On the downside, the great effort to which the paper committed itself yesterday could come to naught. How so? The Trib is a highbrow paper with few at-risk Chicagoans among its readers. You can't even find a newsstand copy of the Tribune in some Chicago neighborhoods. And since much of the focus of the paper's New Plan is on leveling the playing field between haves and have-nots in the region, the Tribune must find ways to listen to and advance the best ideas submitted by all of its readers. This including children targeted by drug dealers to use and sell drugs.
In 1985, the paper's failure to see disadvantaged West Lawndale residents as problem solvers helped sink the its well-intentioned and initially promising "American Millstone" project of in-depth interviews of West Lawndale neighborhood residents. The project intention, as I saw it as the time, was to awaken the city to the need to underwrite programs to enable at-risk Chicagoans to break the shackles of poverty.
American Millstone: An Examination of the Nation's Permanent Underclass:
a well-intentioned project, addressed primarily to the Tribune's wealthier urban and suburban readers, which ended up alienating the urban poor it sought to help.
But from what I know of it, the Millstone project backfired. At an emotionally-charged public meeting held on Michigan Avenue (of all places) in 1986 and attended by several hundred African-Americans, I saw speaker after speaker chastise Tribune staff members for their insensitivity to blacks for using the term "Millstone" to name this project. "Underclass" didn't go over well either. Tribune staff hadn't anticipated this hostile response. That public meeting, as I recall, pretty much marked the end of the Millstone project, which was intended to awaken the city to take measures to improve conditions in Lawndale.
Like its Millstone series, The Tribune's subsequent "Killing our Children" (1993) and "Saving Our Children" (1994) series were not widely read by the very Chicagoans who comprise their subject matter. All three were written about and for but not written to the hundreds of thousands of disadvantaged Chicagoans they were intended to benefit.
Now that the Tribune has at least nominally committed to reaching out to all Chicagoans, it must overcome its low readership in the black community. But this is a big challenge. In Austin, I'm told you have drive to Oak Park to get a newsstand copy. The Tribune has been hiring black teenagers in Austin to sell subscriptions in their neighborhoods door to door.
For its "New Plan" to bear fruit, it goes without saying that the Tribune must find new ways to engage all Chicagoans. Partnering with other media may be the best and perhaps only way to do so. Media partnerships would also build the large audiences that media these days particularly covet.
---
4 October 2013
Solving Youth Violence and Building Chicagoland:
New Roles for Chicago's Media
by Steve Sewall
The Austin Public Library
[While the first half of this piece echoes first half of op ed piece my November 3 post. the second half goes in a new and national, as opposed to regional, direction]
Last Wednesday, on a cloudless warm Indian summer evening on Chicago's far west side, I was walking down the steps of Austin's handsome but aging public library with a group of fifteen students and adults when two kids in hoodies came tearing down the street shooting at someone in the dark. A dozen shots rang out. But no one bothered to call 911. No one. That's how inured most Austinites are to gunfire - and how little they trust their police.
Next evening, equally beautiful, I found myself in the 50th floor offices of a Loop law firm with members of Chicago's Harvard Club. We were listening to Dr. Felton Earls of Harvard's School of Public Health discuss the Project on Human Development in Chicago - his eight-year, $50 million study of violent behavior in 343 Chicago neighborhood cohorts - and its surprising (and now accepted) finding that a neighborhood's safety depends less on its demographic or economic makeup than on its capacity for collective efficacy: its residents' ability to take appropriate group action to keep everyone safe.
Dr. Felton Earls
Near the end of his presentation, Earls confessed his bafflement as to why collective efficacy has yet to take root in the United States, especially his native New Orleans. After all, in Tanzania, he'd trained "junior immunologists", ages 10-14, to motivate tradition-bound adults to test for the HIV virus. And he'd had comparable success with Costa Rican youngsters. So why no takers for collective efficacy in the U.S. - or, for that matter, in Chicago, the site of his $51 million study? In closing, he discretely said it's high time America acted decisively on youth violence: "Now is the moment to be practical."
Earls' focus on children as change agents was music to my ears. As a Chicago educator, I've long felt that solving youth violence will require something Chicago has never seen: citywide youth engagement, influcing that of children targeted by drug dealers to use or sell drugs. Earls, for his part, envisions child citizenship as the "integration of children into society in a way that protects, that strengthens society, and in the process has all kinds of positive, and educational outcoand educational outcomes."
More music. That's because youth violence, for my money, is as much of a public communications (media) problem as it is a public safety problem or a public health problem. It's rooted in decades of media-driven communication breakdowns* between young people and adults, between citizens and governments and between city and suburban residents. And while physically concentrated in poorer, nonwhite Chicago neighborhoods, youth violence strikes me as ineluctably regional in its root causes, its pernicious effects and its ultimate solutions.
Getting people to see the forest for the trees about a complex phenomenon that's both defied solution for fifty years and catastrophically depleted the human and economic resources of all Chicagoland residents is what gets me out of bed these days.
Today I had four thoughts as to how collective efficacy might take root in Chicago (or New Orleans). They follow from three facts not directly related to youth violence: a) the City of Chicago aspires to anchor a world-class Chicagoland region, b) mainstream media in our media-driven society exist to deliver consumers to advertisers and c) Chicago presently lacks a public communications system (a media network) that's adequate to engaging city and suburban residents in building a world-class Chicagoland. My thoughts:
First: Two large communities - Chicago and the six-county Chicagoland region - subsume the 343 Chicago neighborhood cohorts studied by Earls.
Second: Pride in Chicago's pro sports teams visibly unifies these subsuming communities. Abundant media coverage fuels this pride and delivers large markets of informed, connected fans to eager advertisers.
Third: Chicago's media can likewise profitably deliver large markets of informed, connected citizens to advertisers eager to tap the largest of all regional markets: the Market of the Whole of all Chicagoland residents.
Fourth: The declared, unifying goal of this regional civic media could be a world-class Chicagoland where citizens of all ages, local governments and even Chicago's media take pride in their ability - their collective efficacy - in creating opportunities that demonstrably help solve intractable problems like youth violence.
In an America where civic media empower citizens, cities and regions as
sports media empower sports fans, teams and leagues,
cities and regions could function like sports teams and leagues,
competing and coperating with each much as sports teams and leagues
compete and cooperate with each other today.
If this regional civic media seems implausable, let me up the ante a bit to show how this new, civic use of media could further empower a region and ultimately America itself. Returning to the sports analogy used above: imagine an America divided into ten geographical regions, each of which has used its own regional civic media to build strong a strong, unique identity: an identity that enables these regions to complement and to compete with each other just as professional sports teams - and indeed leagues of professional sports teams - make use of sports media to complement and compete with each other today.**
In this arrangement, the Federal Government could play the role of ensuring parity among regions much as the National Football has ensured parity among pro football teams ever since Commissioner Pete Rozelle established the practice in 1978.
But back to Chicago. Summing up: to flourish in an electronic age, Chicago's media can make money empowering by the industrial age City that Works (which by all accounts isn't working too well these days) to refashion itself as a Chicagoland That Thinks - and that works for all residents.
* For decades media of many kinds have played substantial roles in the communications breakdowns that exist today. This is because most media content delivers consumers to advertisers not by unifying young people and adults, for instance, but by separating them into discrete age groups in order advertise a given product to its targeted age group. So entrenched is the practice of target marketing today that advertisers and media people can scarcely conceive of a unifying civic media that targets the Market of the Whole of all members of a neighborhood, community, city, region - or, for that matter, of a nation or planet.
**The interdependence of leagues is in seen the extent to which they share stadiums, labor and arbitration practices, tax strategies, drafting practices, equipment suppliers and promotional gambits. In contrast, bear in mind the extent to which the identity of a sports league is becoming a function of its ability to differentiate itself from other leagues in the eyes of fans and advertisers.
---
January 2013

Gangs, Drugs and Media: the Chicagoland Story
by Steve Sewall, Ph.D.
Cold weather. In past years, it took the media spotlight off youth violence in Chicago. Will 2013 be different?

Perhaps. Chicago's media are counting every homicide, mourning the death of every child as never before.

Yet homicides are the tip of the iceberg. Last year the Chicago Crime Commission found that "more than 100,000 gang members" terrorize the neighborhoods of about half of Chicago's 2.8 million residents.

Plus an estimated 15,000 more gang members in the suburbs, according to the Commission.

Speaking of the suburbs, the 2012 Illinois Youth Survey reports an "actual past 30-day marijuana use rate" among suburban high school seniors of 29%. That's identical to the 29% rate of city high school seniors.

Media pay scant attention to these facts. Or to the fact that gangs and drugs have been a Chicagoland problem for decades, despite Chicago Tribune reporter Jean Latz Griffin's excellent story of 1986.

Instead, Chicago's media cover Chicago's struggle to confine gangs and drugs within the city's poorer, non-white neighborhoods.

And the net result of Chicago's unending and seemingly unwinnable War on Gangs: of fifty years of containment?

It's been more gangs. More drugs. More violence. Fortified schools. 40% dropout rates. A depleted workforce.

White flight to the suburbs - and Hispanic and black flight as well, with 200,000 African Americans fleeing the suburbs in the last few years.

And, as a result, an eroded city tax base followed by an ever-worsening budget crisis.

As for the human cost: "Chicago has lost two generations of young people to gangs and drugs."

So said Mayor Daley twenty years ago. Today it's three generations. And counting. Fast.

Containment? It's been a disaster. Yet "We're containing it." So said Mayor Emanuel on National TV last September defending Chicago's handling of youth violence.
Containment in Chicago Illustrated. By the Chicago Sun-Times.
To keep his inaugural promise of safer streets and better schools for all Chicagoans, Chicago's brave new mayor must move Chicago from containment to solution.
So who will help him? Chicago's police? Its teachers? Its people?
Its civic and religious institutions? Its businesses? Its media?
All must help. Especially Chicago's media. Why Chicago's media?
Because of community involvement. Community involvement, everyone agrees, is crucial to stopping youth violence. Yet there's never been enough. Police keep pleading, "We can't do it alone".
But wait - most Chicagoans desperately want a gang-free Chicago. So why aren't they involved?
Because Chicago's media have yet to realize that youth violence is as much a public communication problem as it is a public safety or public health problem.
Chicago will not put an end to youth violence without the constructive involvement of its public communication system: its public, community, online and mainstream media.
So far, that involvement has been anything but constructive.
"Chicago media", Mayor Daley used to say, "glorify trouble makers and neglect problem solvers".
He was right. Trouble makers own the headlines. If it bleeds, it leads.
Through all this noise, problem-solving Chicagoans can't hear each other.
Can't understand each other. Can't trust each other. Can't work together.
Which is odd. Because Chicago's media have incredibly powerful resources to get Chicagoans working together.
What?
They certainly do. The same resources that focus Chicagoans on business, entertainment and sports can focus Chicagoans on reducing youth violence and solving gangs and drugs.
How?
Chicago's media can empower Chicagoans to transform youth violence news from reported problems to examined issues to best solutions.
Key to this transformation is the involvement of all Chicagoans, especially the youth targeted by drug dealers to use and sell drugs.
Chicago's media have ample resources to help Chicagoans change the city's culture from youth/adult alienation to youth/adult cooperation.
Hmm. Interesting. But media will always report the news, violent or otherwise.
And you're asking media to facilitate constructive changes in destructive behavior.
Criminal behavior.
You bet I am. And I'm betting that constructive behavior with credible citywide voice will dispel destructive behavior.
There will be less violent news to report.
Well, I'm listening. But how will media monetize this new journalistic role?
They'll profit - handsomely - by tapping the Market of the Whole: the Chicago and Chicagoland market.
This market is huge. Like the markets for Chicago sports teams.
It's a market for information that generates best solutions to intractable problems like gangs and drugs.
It's a market of citizens who want an informed voice in the government decisions that affect their lives.
Aggregate this market honorably, Chicago media, and you've found the next holy grail of advertising.
Work with it, Mayor Emanuel, and you're making smarter decisions with informed, citywide input.
And Chicagoans are working with you to make Chicago a can-do, world class city.
The 20th century I Will City is working as a 21st century We Will city.
Slow down. You're reaching for the stars. Exactly how does this market-driven media function?
Its dynamic formats maximize the interactive, dialogic capabilities intrinsic to any medium.
They embody the
axiom that productivity equals profitability: that demonstrably positive
outcomes generate strong advertising revenues.
Working in concert, they comprise an informal citywide civic media network committed to defining and solving Chicago's gang/drug problem. This media has five characteristics:
It's an interactive, solution-centered, outcome-oriented media.

Its ongoing, problem-defining, problem-solving dialogues get Chicagoans working together. Visibly. Productively. Around the clock.
It's a mediating media. Issue-centered. Non-partisan. Impartial. It makes Chicagoans (including City Hall) responsive and accountable to each other.



It's rule-governed to ensure inclusiveness, credibility, productivity and participant safety.

It keeps us honest. Brings out the best in us. Smartens us up instead of dumbing us down.





It competes and cooperates with existing media, which, at their option, can use its formats or devise their own. Its People System of ordinary Chicagoans interacts with Chicago media's Star System of newsmakers and media personalities.
It's exciting. Its polls, votes, contests, competitions and awards generate citywide audiences. It depicts the life-and-death drama of gangs and drugs from the standpoint of all participants.
In the 1990's, The Austin Voice, WVON radio and Chicago Civic Media prototyped a civic media on Chicago's gang-ridden far West Side.
West Siders put it to good use.
Will Chicago - and Chicagoland - do likewise?
Will the I Will city contain or solve its gang/drug and youth violence problems?
---
Afterthoughts
The article above is not just about Youth Violence - gangs and drugs - in Chicago. It's about how media - public, community, online and mainstream - in any community can inform and empower citizens and governments to define and solve all kinds of intractable problems.
1. Send questions, comments, suggestions about the above piece here.
2. Some interesting questions are answered here.

3. I'm working on this FAQ.
4. Input and support:
You can take our poll, sign our petition, and spread the word

here

. Our goal is 10,000 signatures by December 31.

Got something to say? Send us an

email

.
5. Here are links to our other sites and to some posts at them:
---
Including Coverage of the West Side Drug Area Shutdown Project
---
To top of page
| Email:
Steve Sewall
| Update 26 July 2001
© Copyright 1996-2008 Steve Sewall. All Rights Reserved.
<!** FOOTER END <!FAR RIGHT CORNER ICONS>
<!FAR RIGHT CORNER ICONS> <!hr><!/center>